Archive for the 'Videos' Category
You are currently browsing the archives for the Videos category.
香港特技滑板車影片
Hong Kong Freestyle Scootering Video – Fanling Skatepark
Film & Edited: Alan Mak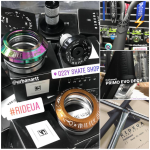 新款 UrbanArtt 滑板車配件現已上市!O22Y現貨發售。
Fresh & yum 👅 ⚡️
UrbanArtt new product in stores 
 Cop or Drop.
—
First try for the only and premium new Primo EVO deck
@caleb__tse @sajibinsanity
Shooting for 7.1 Show
Scooter – Alex Buffery | Rollerblader – Alex Tsui
Music: Brand New Love (SNH48)
Some clips of the new Ride858 Carbon Fade T Bar
Please subscribe our YouTube channel.
Alex Buffery – Flat bar session@Fanling
Film: Alan Mak
One Day Edit – Alex Buffery(MGP HK) -@Tsing Yi Skatepark
Film: Alan Mak
Christmas Party – Real Street JAM 2013 edit by ABC Studio.
Thanks to all our sponsors and everyone support the event, see you guys next time.